B14 Community on Social Media
Whilst the Forum and news pages are still active there is also a thriving community on our Facebook pages. The Class association are working to improve the website to bring social media and our existing website together but in the interim please check the links below for further gossip and news on the B14 class
B14 Stokes Bay TT-02 2015
The B14 Flying Circus headed to Stokes Bay Sailing Club, venue of the 2015 National Championships for their second TT of the year, and first sailed event, due to Rutland being blown off. The forecast was for gusts in excess of 25 maybe 30 knots on both days, so those travelling further, stayed away as they had an inkling they were in for another Rutland weekend propping up the bar and recounting tales of mad off-roading on bikes and skiing holidays for those that did not go to the Worlds in McCrae Australia
So those that did attend, were treated to flatish water and SW 8 – 15 knots, unlike the promised breeze the heavier bomber command teams had been salivating over and enjoying a hearty week, found they were going to have their hands full with the lighter teams.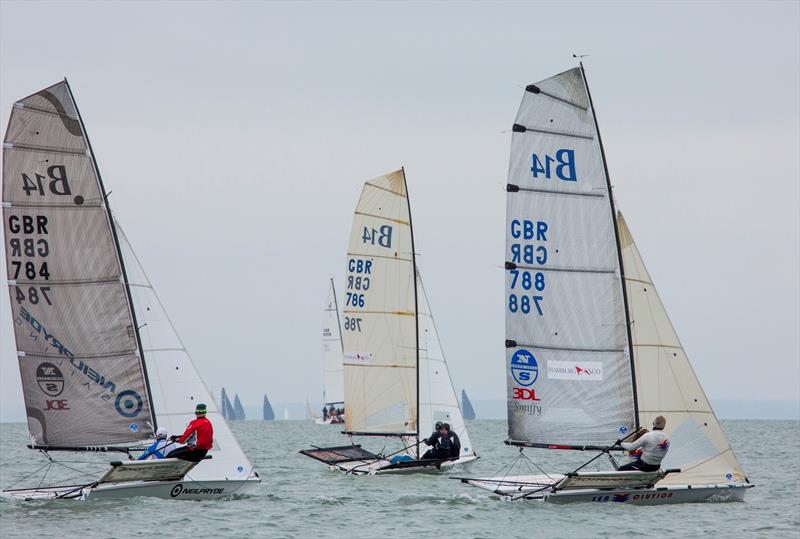 Photo by Tim Olin
BREAKING NEWS - World Championships 2016 confirmed for Circolo Vela Torbole, Lake Garda Italy
After Months of negotiation and organisation by the UK B14 committee the class has confirmed that the 2016 B14 World Championships will run from 27th June - 1st July. A warm up event, the Europeans/Pre Worlds will run 23-25 June 2016.
Racing during the 2004 B14 World Championships, Lake Garda, Italy
TAS - State Championships - On the Hunt – Robbies Daily Update
Robbie is on the mend and getting everything back to normal following his run in with a sausage a bit over a week ago. Now back to building up his strength and fitness as well as putting on the weight he lost the last week. Next on the list is the SB20 Nationals this march long weekend. Robbie will be one to watch at next years National championships. With more opportunity to train, a southern Tasmania, home ground advantage will surely lead to good things!
 
See you alll soon.
TAS B14 State Championships go down to the wire at Kingston Beach
Rocketship Takes home the state championship following tough and drawn out competition over the weekend.